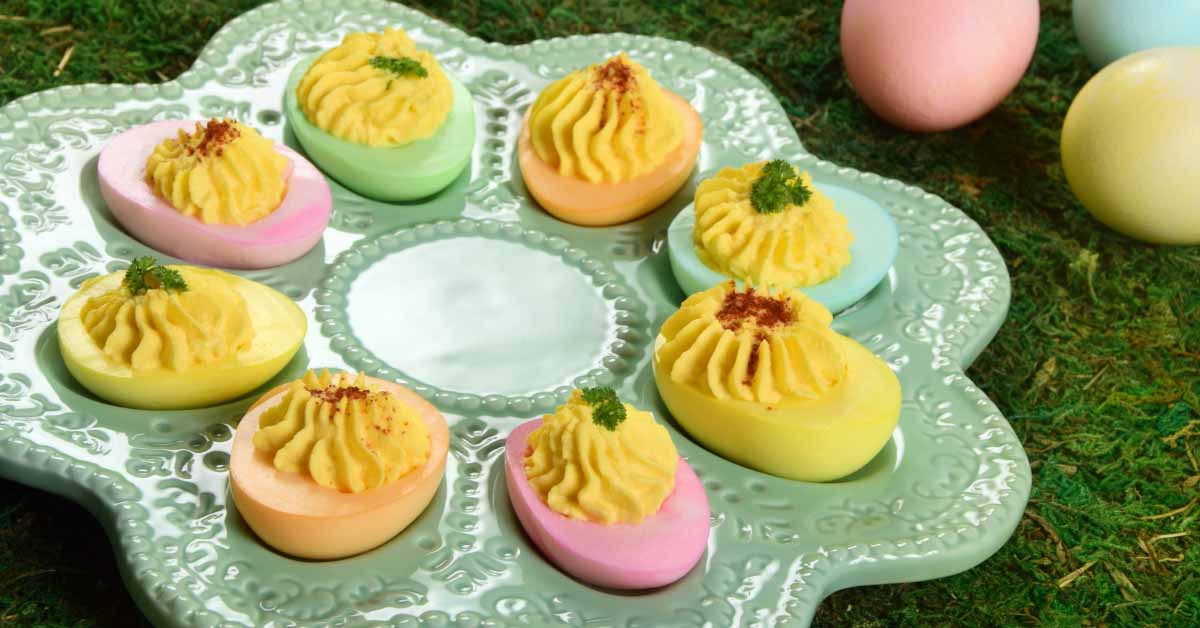 Along with being a good way to use up all those boiled Easter eggs, Deviled Eggs are a go-to appetizer for your family dinner. Add a little food coloring to make these traditional bites pop!

You'll need:
12 large eggs 

¼ cup mayo

salt and ground black pepper to taste

Smoked paprika (to taste)

¼ teaspoon dry mustard

4 drops red food coloring

4 drops blue food coloring

4 drops green food coloring

3 cups water, or as desired
To make:
If you don't have hard-boiled eggs already, follow these steps for a quick batch. Place eggs into a large saucepan, cover with cold water, and bring to a boil. Let eggs boil for 3 minutes; turn off heat, cover pot, and let eggs cook in hot water for 20 minutes. Drain and cover eggs with cold water. Peel your eggs after they've cooled.

Cut hard-cooked eggs in half lengthwise and remove yolks. Mash yolks in a bowl with mayo, salt, black pepper, smoked paprika to taste, and dry mustard until smooth.

Place red, blue, and green food coloring into 3 different bowls and add about 1 cup water to each bowl. Steep 8 egg white halves in each bowl, tinting the egg whites pink, light blue, and green. If color is too pale, add more coloring to bowls. Drain colored egg whites on paper towels.

Pipe or spoon egg yolk filling into colored egg white halves; cover and chill before serving, at least 30 minutes.
Visit us on Pinterest for more fun recipes!