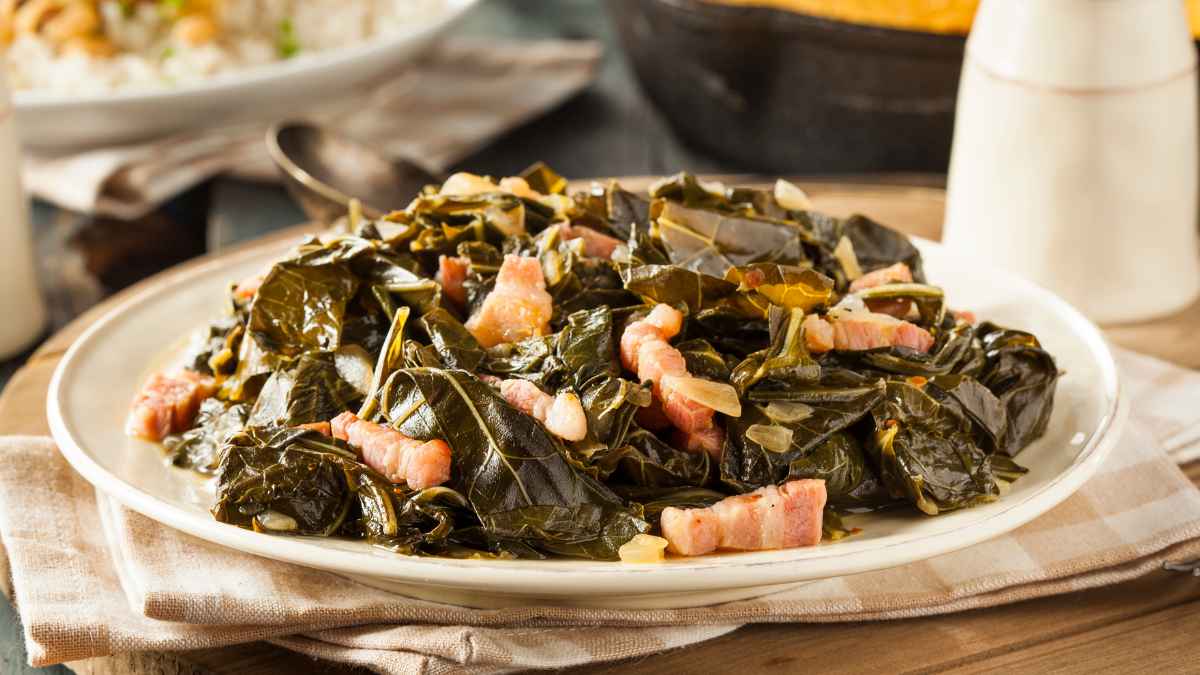 Collard greens go well with just about anything. Collard greens taste like a cross between kale and cabbage and have a smooth and hearty texture. Try this savory side dish at your next meal!
You'll need:
4 strips thick-sliced bacon, sliced into 1/2-inch strips
1 small yellow onion, chopped
2 cloves garlic, minced
1 teaspoon kosher salt
1/2 teaspoon black pepper
2 tablespoons sugar
Several dashes of hot sauce (add more if you want more heat)
1/4 cup apple cider vinegar
2 pounds collard greens, stems removed, sliced into 3-inch-wide strips
1 cup chicken stock (or water)
To make:
Heat a large skillet over medium heat. Add bacon until browned around the edges. Add onion and cook until softened. 
Add the salt, pepper, sugar, hot sauce, and garlic, and cook for about one minute. 
Add the vinegar and simmer until the amount of liquid is reduced by half, stirring and scraping up browned bits from the bottom of the skillet.
Add the collard greens and the chicken stock and bring to a simmer. Reduce the temperature to medium-low and cook, stirring occasionally until the collard greens have wilted and lost their brightness. Season to taste with additional vinegar and hot sauce.
Serve the greens with some of the juices from the pan.
You can get farm-fresh greens when you join our CSA program. Visit our blog for more delicious recipes!