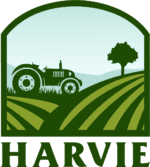 Harvie is a software platform that enables our farm to offer members some incredible features that maximize customization, personalization, and flexibility of their farm share while at the same time reducing food waste!
Features from Harvie
Online Account Management
Personalized Shares
Further Customization
Order Extras
Vacation Holds
Recipes
Cooking & Storage Tips
Flexible Payment Plans
How do the Harvie features work?
After signing up for our CSA, you will be prompted to set your preferences.  Harvie will provide you with a list of all the crops that we grow and you will rate each item from 1 ("I never want it in my share") to 5 ("I love it!").  Based on your preferences and what we harvest each week, Harvie's super-cool algorithm chooses what will go in your share and sends a notification to you about your share.  For each delivery, you will have 24-48 hours to make changes to your share or order extras if you like.  Going to be out of town and don't need your delivery?  Put your share on "Vacation Hold" until you get back!  Recipes, cooking tips and/or storage tips are customized and provided to you with each share.  You don't even have to pay all up front now, use the flexible payment plan free-of-charge!  For more information on all of these features, visit the Harvie FAQ's page.