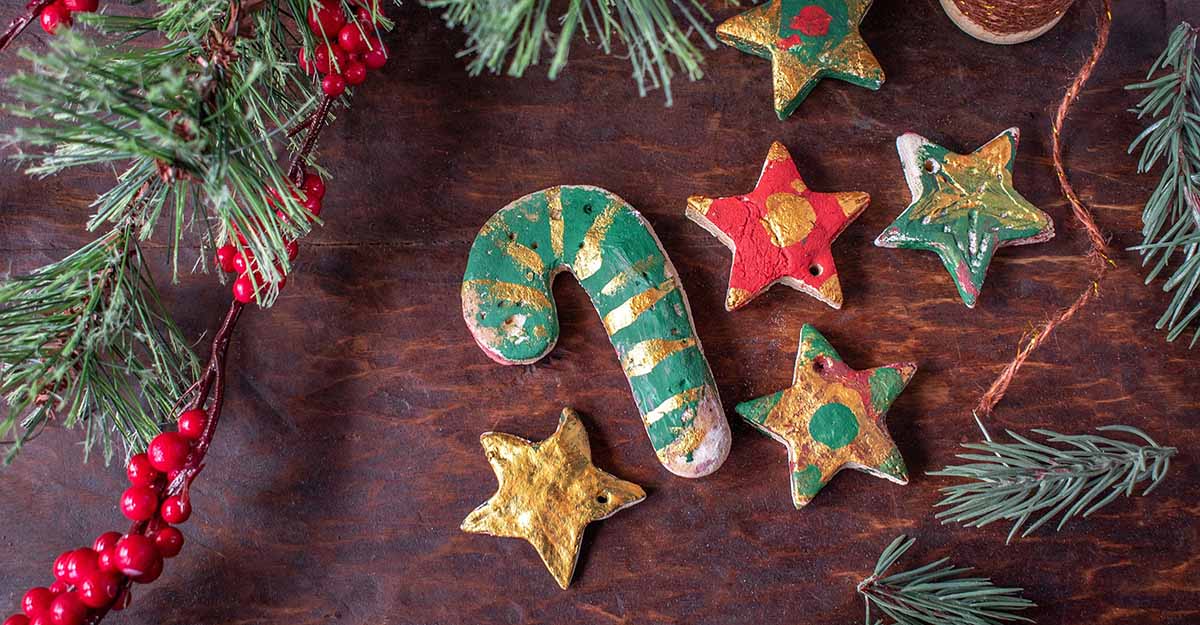 What better way to trim your farm-fresh Christmas tree than with homemade ornaments! Kids will enjoy seeing their fun creation hanging on the tree for years to come. Here's a simple ornament made from common household ingredients! 
You'll need: 
Dough
4 cups all-purpose flour
1 cup salt
1 ½ cups warm water
Tools
Parchment paper
Rolling pin
Cookie cutters
Baking sheet
Decor
Forks, stamps, lace, or anything else to make a pattern
Straw or toothpick (to poke a hole to hang the ornament)
Baking sheet
Paint, glitter, etc.
Mod Podge or Polyurethane spray (for sealing/preserving)
Ribbon or twine for hanging ornament
To Make:

Mix flour and salt in a large bowl until well combined. Slowly stream in warm water while stirring. Keep stirring until all water has been added. 
When it gets to a point where the dough is too thick to stir with a spoon, put it on a lightly floured surface and knead until it's smooth and pliable.
Put the dough down on a sheet of parchment paper and cover with another sheet of parchment paper. Roll until about 1/8 " thick (reduces likelihood of air pockets and future breakage). 
Remove the top sheet of parchment paper and, keeping dough on top of the bottom layer of parchment paper, use cookie cutters to cut out ornament shapes.  
Once all shapes have been cut, peel away all the excess dough, leaving shapes on the parchment paper. Use a straw or toothpick to poke a hole where the ornaments will hang. If you're going to add texture elements to your ornaments, now's the time to do it.
Move your ornaments and parchment paper onto a baking sheet and bake at 300 degrees for an hour. Allow to cool thoroughly before decorating. 
After you've decorated your ornaments, paint with a layer of Mod Podge or spray with Polyurethane to preserve.
Visit us on Pinterest for more festive DIY ideas!