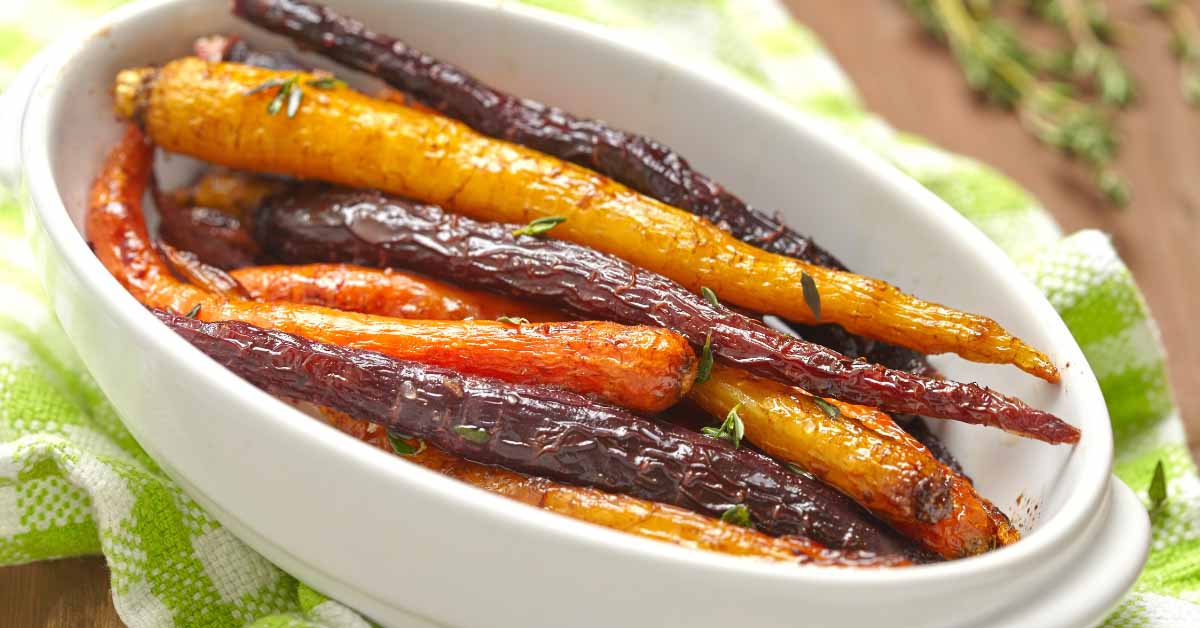 Did you know that the majority of carrots grown prior to the 1500s were purple, yellow and white? We actually have the Dutch to thank for orange carrots. In the late 1500s, farmers began growing a strain of carrots that were higher in beta carotene in honor of William of Orange. We like them all, but for this side dish, we're using colorful carrots!
You'll need:
2 lbs rainbow carrots with their tops

2 tbsp extra-virgin olive oil

¾ tsp garlic salt OR sea salt

Ground black pepper to taste

Fresh thyme sprigs (divided)
To make:

Preheat the oven to 425 degrees.

Scrub carrots and trim tops to 1 inch. If some of your carrots are thicker than others, cut them in halves lengthwise so that they are along the same diameter as the others.
In a large bowl, toss carrots with oil so that they are evenly coated and spread them, single layer, on a large rimmed baking sheet. Sprinkle evenly with salt and pepper. Toss several sprigs of thyme on top, keeping two sprigs for garnish.

Roast, stirring every 10 minutes. Carrots are done when they are tender and caramelizing around the edges. Remove the thyme stems prior to serving. Add additional salt and pepper to taste if needed.

Transfer carrots to a serving dish, sprinkle with fresh thyme and serve!

Visit our blog for more delicious recipes! We look forward to seeing you here at the farm for Easter festivities!